John Lewis store ethos inspired by draper Peter Jones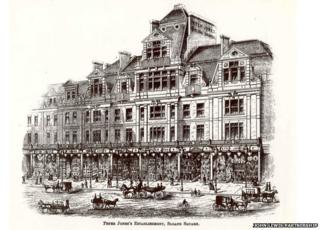 As the John Lewis department store chain celebrates its 150th anniversary, one shop alone retains the name of a Carmarthenshire draper who inspired its partnership ethos.
In 2009, the first John Lewis department store in Wales opened as part of Cardiff's new city centre shopping redevelopment.
Yet the company's Welsh connections date back over a century, to when the son of a Carmarthenshire milliner first established what is now one of the chain's flagship London stores.
Born in Newcastle Emlyn in 1842, Peter Jones left for London with just £14 savings, and within a decade had established one of Chelsea's most fashionable shops.
The brand he created was so respected that on hearing of Jones's death in 1905, his rival - the original John Lewis - personally walked across town to purchase the store, with £21,000 cash hurriedly collected from his own tills.
John Lewis Partnership archivist Judy Faraday said: "The two men were rivals, but also had a great deal of respect for each other.
"They were roughly the same age, were both religious non-conformists, and had both risen from humble countryside backgrounds to make outstanding successes of themselves in London retail.
"But John Lewis was a hard-headed businessman, and wouldn't have bought Peter Jones purely out of sentimentality.
"Jones had chosen his location incredibly well in the up-and-coming King's Road/Slone Square area, and John Lewis would have known only too well not only how much money he could make from Peter Jones, but also what a dangerous competitor it would be if he hadn't have bought it himself."
But despite his phenomenal success, throughout his life Peter Jones remained true to his humble beginnings as an apprentice with drapers in Newington and Leicester Square.
The welfare of his staff seems to have been as important to him as his profit margin.
At a time when average retail wages were just 25 shillings (£1.25) per week, Peter Jones introduced generous Christmas bonuses.
He also created accommodation for staff above the store, equipped with a well-stocked library, a piano for musical evenings and a pair of billiard tables.
His employees rewarded him by boosting his turnover from £18,000 in 1877 to £157,000 by the turn of the century.
Starting out as two houses knocked through, his Sloane Square premises eventually took over 28 properties across an entire block.
It was this happy marriage between success and fair play which Ms Faraday says went on to influence the John Lewis model for the next century.
"As I say, John Lewis was a hard-headed businessman, not overly concerned with the welfare of his staff. So Peter Jones' style was somewhat alien to him.
"But fortunately for us, John Lewis decided to entrust the running of Peter Jones to his son John Spedan Lewis, who was much more interested in what Peter Jones had created.
"Spedan thought of himself as something of a scientist, and treated Peter Jones as a social experiment. He knew from his father's shops how workers responded to discipline, and he wanted to be able to prove whether even better profits could be achieved by involving his staff, and motivating them with a stake in the company's success.
"It was Spedan - without his father's knowledge or consent - who introduced the cooperative profit-sharing model of today's John Lewis, and that's why we consider Peter Jones as the cradle of the group, in some ways even more so than his father's original store on Oxford Street."
Out of respect for that status, the Peter Jones store alone retains its original name, and has not been absorbed into the John Lewis brand.
The Grade II listed building was the first London store to have electric lighting throughout, and one of the first to boast a frontage made entirely of glass.