Murco: Talks to save Milford Haven oil refinery continue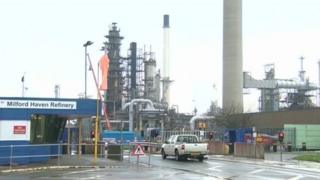 Talks are continuing over the future of a closure-threatened oil refinery in Milford Haven, says its owner.
A buyer is still being sought for the Murco plant in Pembrokeshire but the company said it was no longer buying crude oil to be processed at the site.
A potential £300m deal broke down earlier this month leaving the future of the refinery in jeopardy.
A task force was set up to try to prevent the closure and protect 400 jobs.
In a statement on Monday, Murco said: "As we have said, we are actively engaged with certain third parties that have expressed an interest in acquiring the refinery.
"These third parties are aware that Murco's crude purchasing has now ceased. We will be providing further updates in due course."
Economy Minister Edwina Hart has said the refinery is "integral to the fabric of the oil and gas infrastructure in Wales and the Welsh economy".
Bosses have been consulting with employees about the future of the site if a buyer cannot be found which could mean job losses and potentially closure.
The refinery has been a major employer at the port since it opened in 1973.