Men win sex discrimination pay case against university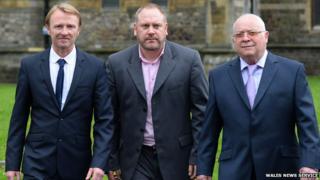 Eighteen men unhappy at being paid less than their female colleagues have won an equal pay claim against a university.
The caretakers and maintenance staff said they were being sexually discriminated against.
Bosses had insisted the difference was not due to gender but down to changes to the men's contracts.
But on Thursday the University of Wales Trinity Saint David (UWTSD) said it would no longer contest the claim.
Representing the university, Peter Wallington QC said: "In light of the evidence that was agreed this morning, I have taken some further instructions from the respondents who concede the (claim of) equal pay was well founded."
It is believed to be the first time such a large group of men have launched legal action in Britain claiming sexual discrimination.
All the men were originally employed by Swansea Metropolitan University, which merged with the UWTSD in August last year.
The men had been on minimum 45-hour-a-week contracts, until new regulations sought to standardise workers's contracts to a 37-hour working week instead.
'Common Sense'
Fearing the drop in hours would cause problems, university bosses said they would guarantee the men the extra eight hours but class it as overtime pay.
But when the new system was implemented, the men said they realised their hourly rate was less than women who were on the same pay scale.
The claimants said they were also not given any choice but to accept the changes - with the situation described as a "fait accompli".
Tradesman Rob Cooze, 50, said he and his colleagues were over the moon with the outcome.
"We didn't want it to come to this really but we're glad common sense has prevailed," he said.
"We are just so relieved and can get on with our ordinary working days now. At certain times it did get us down because in the past, because we felt like we weren't being listened to."
'Historical decisions'
The workers are seeking back pay plus interest but no financial agreement has yet been reached.
A separate group of seven workmen said they would launch their own legal bid if their colleagues were successful with their claim.
If all 25 are successful, the university could end up paying out around £750,000 - with each worker receiving around £30,000 in back pay.
A spokesman for UWTSD said it had no involvement in the decisions made by Swansea Metropolitan University in 2007.
"This was a complex case and we are very disappointed that the new university now has to deal with, in an appropriate manner and with due care, the consequences of historical decisions," the spokesman added.