Ramsey Island puffins get sound system to help breeding programme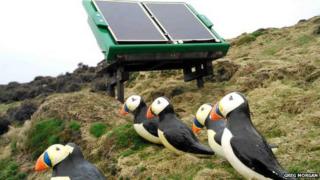 A sound system playing puffin calls is the latest ploy in a bid to lure the birds back to Ramsey Island to breed after an absence of 100 years.
The RSPB was inspired to use the recording after hearing how experts on an island off Northern Ireland had been successful doing something similar.
The charity has been placing fibreglass puffins on Ramsey without success for about four years.
The birds deserted the island in the late 1800s when rats inhabited it.
The solar-powered sound system plays a recording of the bird's low growl on a three-hour loop at 07:00, 12:00 and 17:00 BST.
It is hoped the calls will attract the birds to the cliff-tops, leading them to see the decoys and eventually breed.
'Low growl'
The recording was trialled for around a month last year but this is the first time it will be used during the entire breeding season from April until early August.
Greg Morgan, site manager for the RSPB's Ramsey reserve, said: "We have not had much success with the fibreglass puffin decoys, so we decided to step things up after seeing how experts on Copeland Island off Northern Ireland had used recordings of puffins.
"We trialled it for about three or four weeks last year and a few birds showed a bit of interest but this is the first time we'll be using it for an entire season.
"The puffin recording is a low growl, the sort of sound you'd expect to hear them make in their burrows."
Mr Morgan said puffins disappeared off Ramsey when rats inhabited the island in the late 1800s. The rodents were eradicated in 2000 and since then there had been a rise in sea bird numbers, especially the manx shearwater and storm petrels.
"But the puffins haven't returned," he added. "We're hopeful this latest scheme will be successful but it may take some time because puffins don't breed until they are five years old."
Nearby Skomer Island is known for its puffins.