Tourism boost from A477 St Clears to Red Roses upgrade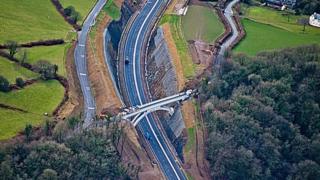 A new £68m five-mile road is being opened to tackle a notorious transport bottleneck and accident blackspot in west Wales.
The upgraded route for the A477 between St Clears and Red Roses includes bypasses for Llanddowror and Red Roses.
Walking and cycling routes have also been built as part of the project.
Transport minister Edwina Hart says it will improve safety and boost access for ferry traffic and tourists visiting south Pembrokeshire.
It is the latest section of the A477 to be upgraded since the early 1980s as a major route not only for tourists but also for military vehicles, industrial equipment and abnormal loads.
Narrow and winding sections of the road in particular have caused problems for many years, including a series of crashes, many of them fatal.
In March 2013 Emma Llewellyn, 22, from Wenvoe, Cardiff, died in a two-car collision on the A477 between Red Roses and Llanteg with six other people injured.
In February 2013 a car driver died after a crash involving a minibus between Llanddowror and Red Roses
In April 2005 motorist Christian Culley, 22, from Pembroke Dock, was killed in a collision at Llanddowror.
In May 2004 a motorist was killed in a three-vehicle crash at Llanddowror.
In March 2003 a 49 year old pedestrian died when he was hit by a Peugeot car at Red Roses.
In April 2002 Andrew Evans, 34, from Upper Tumble, died when his Vauxhall Astra crashed near Red Roses.
The road has also suffered closures due to flooding.
Fewer delays promised
First identified as in need of upgrading in the early 1990s, construction work on the latest section of the A477 to be upgraded began in February 2012.
Motorists have been promised quicker journey times and fewer delays or closures due to accidents, flooding, fallen trees and maintenance.
Mrs Hart said: "As well as being part of a vital trans-European road network, this improved section of the A477 will provide more efficient road connections to the important tourism and energy enterprises in Pembrokeshire, and enable more effective connections with Ireland via Pembroke Dock."
The new section consists of 5.4 miles of new road between Pont Newydd Bridge, east of Llanddowror, and Red Roses, and a further half-mile of improvements between Pont Newydd Bridge and the St Clears roundabout.
Although a single carriageway, over half of the new road has three lanes offering overtaking opportunities in both directions.
A foot and cycle path has also been built to link the communities of St Clears and Llanddowror.