Menter Cwm Gwendraeth's chair and chief executive step down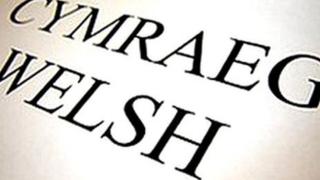 The chief executive and chair of one of Wales' oldest Welsh-language support groups have stepped down from their posts.
Menter Cwm Gwendraeth was founded in 1991 to promote the language in the Gwendraeth Valley in Carmarthenshire.
It is understood Cathryn Ings stood down as chief executive on 10 April.
Chair Sian Thomas resigned after a dispute with fellow board members although she denies it is linked to Ms Ings's departure.
Claims Menter Cwm Gwendraeth is facing financial problems have been denied but Ms Thomas, who is a councillor, told BBC Wales the organisation's bookshop and café in Pontyberem are losing money.
Ms Thomas also claimed that some board members were unhappy with Ms Ings's standard of Welsh, which was one of the reasons for her departure. Ms Ings refused to comment.
Nerys Burton has been appointed as interim chief executive and it is understood that Dr Wayne Griffiths will be the temporary chairman.
In a statement, Ms Burton said: "We can confirm that there is absolutely no financial worry.
"The menter is restructuring for an exciting future in our history and plan to launch several campaigns to promote the work of the menter at the National Eisteddfod this year."
A statement released following a meeting on Wednesday said Ms Ings was originally appointed on a temporary basis.
The news follows a decision by Carmarthenshire council to back a cross-party report aimed at halting the decline of the Welsh language in the county.
Over 70 recommendations were made by a group set-up after the 2011 census showed a 6% drop in Welsh speakers.
Councillors have also agreed to research factors behind the language's decline and to propose ways to address it.