Malcolm Green: Organ failure after cancer op bleed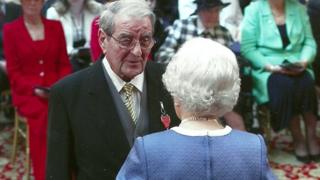 A businessman had little chance of surviving complications following a cancer operation, an inquest has been told.
Malcolm Green, 82, began bleeding internally after surgery to remove a tumour at Withybush Hospital, Haverfordwest, in 2012.
The Milford Haven hearing was told Mr Green died three days after emergency surgery to treat the bleeding.
Officials have admitted failing to respond to his condition in time.
On the first day of the inquest, the hearing was told that Mr Green had undergone surgery on 26 June to remove a tumour in his colon.
But alarms bells began to sound overnight, as his blood pressure began to drop.
The following morning, staff indentified the internal bleeding and he was prepared for emergency surgery at 10:00 BST.
However, that procedure did not get underway for another three hours.
Organ failure
Surgeon Otumeluke Umughele told the inquest that it was clear there had been post-operative bleeding, possibly as a result of a stitch that had slipped.
Mr Umughele said by this point Mr Green was suffering from organ failure and his prospects of survival were very low.
However, the consultant rejected claims made in a statement by the hospital's lead anaesthetist Dr Joel Green, that the anaesthetist team were ready to start at 10:00.
In a written statement, Dr Green said he went down to a cancer clinic at 12:00 to request Mr Umughele's presence in theatre and to emphasise how sick Mr Green was, as there was still no sign of Mr Umughele.
Mr Umughele dismissed this, saying he immediately returned to theatre when Dr Green came to inform him that blood products ordered for the operation had arrived.
Despite surgery finally going ahead, the businessman's condition continued to deteriorate and he died three days later.
Apology
Known for his car dealerships, Mr Green was made an MBE for his services to the community in the New Year's Honours in 2011.
He had also been an active member of Haverfordwest Rotary and the Museum Trust in county.
In a statement released to the BBC the health board admitted failures in Mr Green's care.
Dr Sue Fish, medical director at Hywel Dda University Health Board Trust, said: "The university health board sincerely apologies to the family of Mr Green and offer our deepest sympathies to them.
"We acknowledge there were failings in the level of care Mr Green received and the university health board has carried out a full internal investigation.
"Actions have been taken to ensure that these failings do not happen again and these lessons will be shared widely across the university health board."
The inquest was adjourned to continue on Wednesday.