Dylan Thomas's Swansea childhood bedroom reopens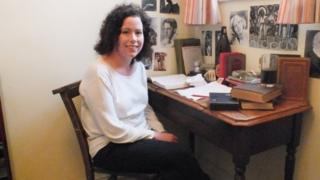 The tiny Swansea bedroom where Dylan Thomas wrote most of his published work has been reopened.
The room at 5 Cwmdonkin Drive, Uplands, has been refashioned as it would have been in 1934 and just after Thomas's first book, 18 Poems, was published.
The centenary of the poet's birth is being celebrated in 2014.
Performing the opening, his granddaughter Hannah Ellis said she was sure the bedroom would become a "major point of pilgrimage" during the year.
"It is wonderful that people have the opportunity to see, touch and smell this room which gives such a good impression of what it might have been like," she said.
The writing shed above the boathouse in Laugharne, Carmarthenshire, where Thomas found inspiration in the latter part of his life is already well known to his followers.
'Boy's Own Paper'
But Thomas was born in the front bedroom of the Cwmdonkin Drive house which was later captured by the poet in his writing, including A Child's Christmas in Wales.
The restored house was opened by his late daughter Aeronwy Ellis in 2008.
After extensive research, Matthew Hughes, who leads tours and organises events at the house, has now recreated the bedroom as it would have been in Thomas's day.
He said: "All the books, papers and artefacts are those that are mentioned, or are similar to, those that Dylan would have had in his tiny bedroom, including a copy of his favourite childhood book Struwwelpeter and the Boy's Own Paper.
"For Christmas 1933 his great friend Daniel Jones gave him a copy of the Koran and the same year his first girlfriend Pamela Hansford Johnson gave him a box of 50 Players cigarettes."
He added: "We hope that our visitors will be able to feel and absorb Dylan better than ever before."
Geoff Haden, who runs the poet's childhood home, said they were still looking for more memorabilia.
Among the items which they would love to have on loan are an old Swansea Grammar School blazer and cap, photographs and school records, he said.