Murco oil refinery task force bid to save Milford Haven jobs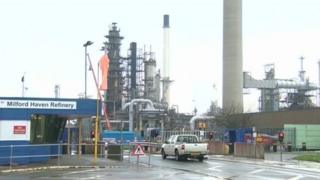 A task force has been set up to prevent the closure of the Murco oil refinery in Milford Haven and protect 400 jobs.
It comes after talks over a £300m deal broke down last week involving an investment firm.
Economy Minister Edwina Hart said the refinery is "integral to the fabric of the oil and gas infrastructure in Wales and the Welsh economy".
The Welsh government has appointed Lord Nick Bourne, chair of the Milford Haven Enterprise Zone, to the task force.
He will be joined by representatives from both the UK and Welsh governments, Murco and trade unions.
Murphy Oil, the refinery's American owners, announced last week that it would be consulting on future options for the Pembrokeshire facility after takeover talks with a London-based private equity fund broke down.
'One clear objective'
Bosses are consulting with employees about the future of the site if a buyer cannot be found which could mean job losses and potentially closure.
Murco has been up for sale for four years.
The refinery has been a major employer at the port since it opened in 1973.
Lord Bourne, a lawyer and former leader of the Welsh Conservatives who lost his seat in the 2011 assembly election, said the refinery was of "strategic importance" to the UK.
"I am under no illusions about the work ahead but I will be asking the task force to meet as soon as possible to explore all options for a sustainable future for the refinery," he said.
Ms Hart added: "The task force will have one clear objective - to engage partners in high-level dialogue to support the company in maintaining the future of refinery operations at the site."
First Minister Carwyn Jones met Murco managing director Tom McKinlay and senior managers on a visit to the Milford Haven refinery on Monday.