Portrait of Under Milk Wood actor Gwenyth Petty to be sketched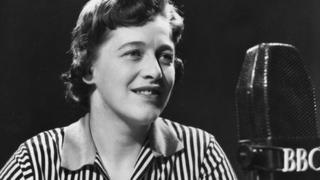 The last original cast member of the 1954 production of Under Milk Wood is to have her portrait sketched as part of Dylan Thomas centenary celebrations.
Gwenyth Petty is posing at Brown's Hotel, in Laugharne, Carmarthenshire, later where the poet once lived.
The sketch, in front of an audience, will form the basis for an oil painting to be exhibited later this year.
Artist Dan Llywelyn Hall's previous portraits include the Queen and some of the last surviving WW1 soldiers.
The Dylan Thomas 100 Festival is a year-long programme of recitals, plays, music, workshops and other events at venues across Wales throughout 2014 which aims to show the legacy of Thomas's work.
The sketch of Ms Petty on Saturday launches Laugharne's contribution to the programme.
'Faithful image'
Mr Llywelyn Hall said this work could be one of his most challenging.
He said: "As Under Milk Wood was a radio play, Gweneth's face isn't immediately recognisable in the same way as the Queen (is).
"So the challenge I have is to not only create a faithful image, but also to try and capture some of the magic of the play itself.
"Gwenyth will be reading from the script and being interviewed as I sketch, so I'm really relying on her passion to pull this off.
"That's the brilliant thing about sketching rather than painting. When I paint I'll introduce my own artistic interpretations, but while I'm drawing it's a first impression - I'm capturing the raw energy in front of me."
Ms Petty is the last surviving actor from the 1954 radio play.
Caitlin
Mr Llywelyn Hall has tracked down other members of the production crew, and hopes to create a reunion portrait later in the year.
Meanwhile, he has already been creating a work entitled "Ghosts of Under Milk Wood".
He said: "It's a melding of all sorts of Under Milk Wood-inspired images, some from old photographs, some from the film, some from my own imagination after reading the text.
"But as many people have already spotted, yes, the central figure is based on a very old photograph I found of Dylan's wife Caitlin."