Napoli fined over Swansea City fans' Europa League delay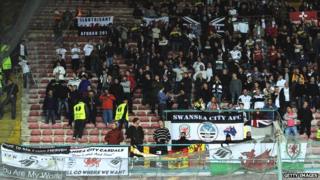 Napoli FC has been fined 26,000 euros (£21,500) by European football's governing body after hundreds of Swansea City fans missed the start of their Europa League match in Naples.
Swansea City said fans suffered "unnecessary and deplorable delays" at the match on 27 February.
Those affected were on escorted buses to ensure they arrived safely.
The escorts came after fans of other clubs faced trouble at previous European matches in the Italian city.
But up to 700 of the 900 fans said they missed the first half-an-hour of the game at Stadio San Paolo, a second-leg tie in the Europa League's round of 32 that followed a goalless draw at the Liberty Stadium.
They had been advised to avoid public transport and use the convoy of buses escorted by police from the port area to the stadium to avoid possible clashes with Napoli fans.
Fans travelling from Rome were also affected.
The Swans were beaten 3-1, a result that put them out of the competition.
Napoli's fine by Uefa is for insufficient organisation but also for illicit banners and throwing of fireworks.
Swansea City has been asked to comment.