Talks 'advance' on sale of Murco refinery in Milford Haven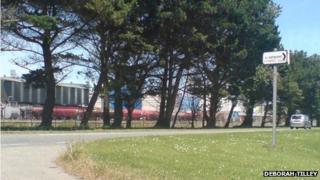 A deal to sell a Pembrokeshire oil refinery could be completed within the next few weeks for more than £300m, it is being reported.
Talks are said to be at "an advanced stage" between Murco in Milford Haven and London-based private equity fund Greybull Capital.
The $500m deal could be signed in mid-April, say Reuters news agency.
Murco, which employs around 400 people at the refinery, would not comment on the price or expected completion day.
The site has been up for sale for about four years and there have been concerns it could be turned into a storage facility if a buyer is not found.
Murco's 400 petrol stations across the UK would also be part of the deal.
Greybull Capital is understood to specialise in long-term investments in companies and has invested in the retail, biotech, energy and manufacturing sectors in Europe, Israel and the United States.
The fund has agreed to back the refinery's existing management and committed to maintaining the refinery's current workforce, according to Reuters.
A spokesman for Greybull Capital declined to comment.
Murco spokeswoman Emma Murphy confirmed that talks for the sale of the company's assets "are ongoing and are at an advanced stage".