Stranded pony rescued after two-day operation at Marros near Pendine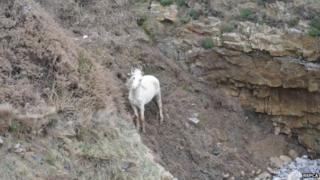 A Welsh mountain pony has been rescued from the bottom of a Carmarthenshire cliff after a two-day rescue operation by the RSPCA, coastguard and fire service.
The two-year-old gelding named Goldie was stranded after slipping 65ft (20m) down a steep slope and into a cove at Marros near Pendine.
Rescuers considered airlifting him off the beach or swimming him out to sea.
Eventually, the pony was sedated and hoisted to safety in a harness.
The drama began on Sunday evening when the RSPCA was called by the coastguard.
Goldie was uninjured and the coastguard advised that the incoming tide could not reach him, so he was left overnight with fresh water and hay.
On Monday, the teams returned with a vet to the stranded animal when it was agreed airlifting him by helicopter was the safest way to get him off the beach - but that had to be abandoned as a helicopter was not available.
A second option of swimming the pony into the sea and attaching him to the RNLI lifeboat was also ruled out because of the rough conditions and high wind.
'Forces of good'
On Tuesday, a team from the RSPCA, coastguard and the fire service decided that sedating Goldie and hoisting him up the cliff face using the fire service's heavy-lifting equipment was the only option.
Once checked over, he was placed in a safety harness, sedated and quickly wrapped in heavy-duty tarpaulin which acted like a protective bag around him while he was slowly hoisted to the top of the slope.
Fully recovered, the pony was returned to his delighted owner.
RSPCA inspector Richard Abbott said: "The forces of good came together on day two of this rescue. A large coastguard team and Mid and West Fire Service turned out to help this little Welsh mountain pony, who we have affectionately nicknamed Cliff.
"It was a very difficult walk to get to Goldie with heavy kit, but team work, good weather and a very well-behaved pony meant Goldie was rescued with absolutely no injuries at all."
Mid and West Wales fire service station manager Simon Pearson said: "We had a good mile-and-a-half walk to the rescue location with various items of equipment which created a physically demanding start to the operation.
"However, we worked well with our partners in what was a very challenging and technically demanding rescue."