Widower leaves mystery love note at Neath bus stop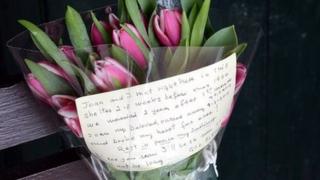 A mystery widower has left a love note to his late wife at the bus stop where they met 64 years ago.
The purple tulips were discovered with a letter to a woman called Joan, which read: "Rest in peace my darling. I'll see you soon."
Bus users have been reduced to tears by the tribute left near Victoria Gardens in Neath.
All that is known about its author is that he is 86 and lives locally.
The letter reads reads: "Joan and I met right here in this shelter 2-3 weeks before Xmas 1950. We married two years after.
"Joan, my beloved, passed away on 9-3-2013 and broke my heart for ever!
"Rest in peace my darling. I'll see you soon, I'll be 87 soon so I will not be long...God Bless."
Simon Watkins, who found the bouquet, said: "I went to the bus station and there was a bunch of tulips tied to one of the benches in the shelter with a note attached to it.
"It was such a poignant note and full of love for his wife."
Fellow bus user Sharon Thomas, 46, said: "I couldn't stop crying when I read it.
"It is so lovely and touching although very sad too. She was a very lucky woman to be loved so much."
The unknown couple would have marked their golden wedding anniversary in 2002, and their 60th wedding anniversary two years ago.