Mumbles and Gower 'boy racers' causing a nuisance, say councillors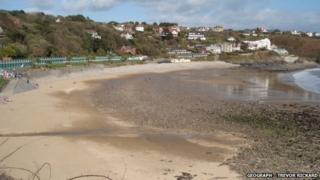 Noisy 'boy racers' are causing havoc for residents of coastal beauty spots around Swansea, councillors say.
Mumbles residents and those living close to nearby Gower beaches say they are being disturbed by young people revving loud car engines late at night.
There have also been complaints of anti-social behaviour.
Mumbles community councillor Brian Arthur said residents had raised the issue at a recent meeting with councillors and police.
Mr Arthur said the drivers meet at Bracelet Bay car park then drive to Langland and Caswell Bays.
"It's the noise the cars make and it's late at night as well. It's from 11, 12 and one o'clock in the morning," he said.
"Hopefully the police will be down there and patrols will be there."
He said Plunch Lane residents in Mumbles in particular had complained about the problem.
South Wales Police has been asked to comment.
Meanwhile councillors have been calling for more parking wardens to patrol one of Mumbles' busiest roads.
They said irresponsible parking on Newton Road often led to major congestion.
Swansea council said its parking enforcement officers regularly patrolled Mumbles to "make sure that residents, lorry drivers, business visitors and other visitors park appropriately".