Mumbles boathouse opens despite fog grounding Duke of Kent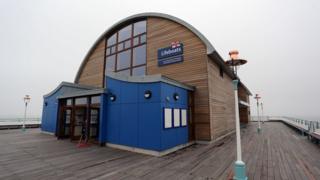 A new £11.7m RNLI boathouse has been officially opened in Mumbles, Swansea, despite fog forcing a change of plan.
The duties were due to be carried out by RNLI president the Duke of Kent but the weather meant he could not fly in.
However the ceremony - and the naming of a new £2.7m lifeboat based at Mumbles - still went ahead.
The cost of the lifeboat has been met by a memorial fund named after Frederick Roy Barker from Jersey, who bequeathed his estate to the RNLI.
It is the fourth lifeboat to be bought with the fund and was named RNLB Roy Barker IV.
The duke was due to fly in by helicopter for the ceremony but could not make it because of fog.
RNLI chairman of the operations committee, Vice Adm Sir Timothy Laurence, stepped in for the naming ceremony while Lord Lieutenant of West Glamorgan Byron Lewis opened the boathouse.
The RNLI has set up a community appeal to contribute towards the overall cost of the boathouse.
The charity said it was receiving "tremendous support" towards the £136,000 community fundraising target, with £85,000 already raised.
Crews moved into the new boathouse in February.
Recent figures showed the RNLI had invested a total of £54m along the Welsh coastline over the past two years.