Seren Bernard: Protest over Haverfordwest girl's death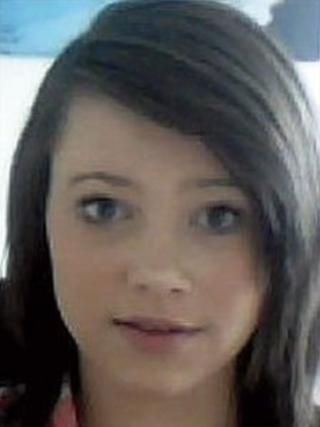 A protest has been held outside Pembrokeshire council offices in Haverfordwest in relation to the death of a 14-year-old girl two years ago.
Seren Bernard died while under care of social services, and Friday's protest was reported to be organised by her mother, Sarah Pollock.
She and about 30 people held "Justice for Seren" banners outside offices.
In January, a serious case review said her death may not have been preventable - even if more steps had been taken.
Police also ruled out criminal charges in relation to her death in April 2012.
In a statement responding to the demonstration, officials from Pembrokeshire council said they appreciated "the deep emotion of Mrs Pollock as a bereaved parent".
The statement added: "The independent reports that have been completed by external experts into the tragic loss of her daughter have concluded that it would remain uncertain as to whether there were any steps that, if taken, could have prevented her death.
'Behaviour'
"At present the matter is still before HM Coroner and it would be inappropriate to comment further."
The review, in which Seren was referred to as Child M, was written by an independent author provided by the British Association for Adoption and Fostering.
It said: "Following her attempted suicide in September 2011, Child M's vulnerability was such, and research regarding suicide would indicate, that a further attempt on her life was a possibility.
"However, in the days prior to her death, her mood is recorded to have lifted and her behaviour gave no indication that she was contemplating suicide."
After Seren's death, Ms Pollock, from Haverfordwest, told BBC Wales she used to be close to her daughter and described her as a grade A student who loved sport.
She said that about two years earlier Seren started behaving aggressively.
Ms Pollock said her daughter started smoking, drinking and playing truant. Seren's mental state had deteriorated, she added, and she tried to get counselling for her.