Swansea council amnesty to recover 50,000 mobility aids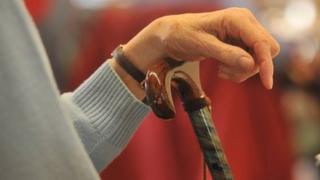 An amnesty has been launched to recover 50,000 items in mobility and home help aids which have not been returned to Swansea council over the years.
The equipment includes walking and washing aids and even specialised beds estimated to run into "millions of pounds".
Officials say the items are probably "lying forgotten and unused in homes" in Swansea and Neath Port Talbot.
The council needs to save £26m in its budget over the next financial year.
But it says the motivation behind the amnesty is to ensure people are given equipment as soon as possible rather than face delays as the Community Equipment Service loans out 40,000 pieces of equipment every year.
Councillor Mark Child, cabinet member for wellbeing, said: "The trouble is that the equipment is not always returned and it's those items which are lying around and forgotten in people's homes that we'd like to have back.
"Even a fairly simple piece of kit can make a huge difference to someone's quality of life if they are injured or have their mobility otherwise impaired."
The Community Equipment Service is operated by Swansea council for its residents and on behalf of Abertawe Bro Morgannwg University Health Board (ABMU) and Neath Port Talbot council.