Neath-born singer Katherine Jenkins collects OBE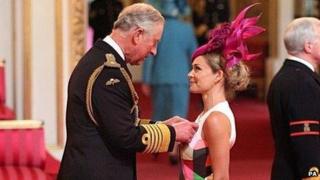 Singer Katherine Jenkins has collected her OBE from Prince Charles at Buckingham Palace.
The Neath-born soprano, 33, was awarded the honour for her services to music and charity work.
The performer, who has performed for royalty on many occasions, said last year she was "incredibly humbled" to be named in the New Year's Honours list.
She said she shared the award with the charities she works with.
The singer is a trustee of the British Forces Foundation and towards the end of last year travelled with the organisation to Afghanistan to entertain troops.
She revealed that the letter informing her of the OBE was sent to her family's home in Neath but was delivered by mistake to a neighbour, who handed it to her mother.
"She was bouncing off the walls, desperate for me to open it," said Jenkins.
"When I opened it I was so shocked, I really, really couldn't believe it. I was obviously incredibly proud.
"My mum and I had a little glass of champagne and toasted my father, who is not with us any more.
"My award was for services to music and charity, I definitely put most of that towards my work with the military and my charities like Macmillan (Cancer Support).
"To be recognised for the things that I've done with the military is a really special thing for me and I feel it should be shared with all of them really, all our military personnel around the world."