RAF helicopter winches pair to safety at Worm's Head, Gower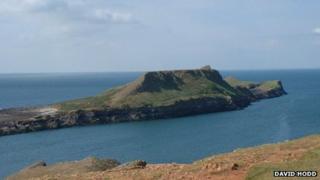 A man and a woman have been winched to safety from a cliff at Worm's Head on Gower, south Wales.
Swansea Coastguard say they were alerted at 18:34 GMT by the police who asked for assistance.
Rhossili and Mumbles coastguard rescue teams were called out and began a rope rescue.
An RAF rescue helicopter from Chivenor in Devon was also called and set the pair down on the headland at 19:32 GMT.
Mid and West Wales firefighters set up floodlighting to assist the operation.