Poppies to be planted in Swansea to mark World War One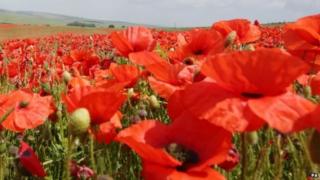 Thousands of poppies are to be planted across Swansea and will come into flower this summer to mark the 100th anniversary of World War One.
Swansea council is handing out free seeds to residents, community groups and schools to remember soldiers who died between 1914 and 1918.
The authority will also plant poppies near the cenotaph on the seafront and outside the Civic Centre and Guildhall.
They should bloom by 4 August, the date war was declared 100 years ago.
The first British casualties were recorded two days later when HMS Amphion, a Royal Navy cruiser, was sunk by German mines in the North Sea.
'International symbol'
"Many Swansea people died on foreign battlefields in World War One and many more will have suffered from the hardships of war at home," said Swansea council leader Cllr David Phillips.
"They made those sacrifices so that generations to come could enjoy the freedom that we all cherish and sometimes take for granted nowadays. This is why it's so important that Swansea remembers.
"The poppy is an international symbol of remembrance and it's extremely poignant that poppy displays will be in full bloom by the cenotaph, and outside our civic buildings this summer."
The hope is that poppies will bloom during the next four years - to mark the length of the war.
Cllr Phillips said: "It's one of the ways we'll be marking World War One both this year and in the four years to come."
The packs of poppy seeds will include information about Swansea's role in the war, along with a step-by-step guide on how and when to plant, and information on how to care for poppies.
Other forthcoming World War One events this summer include exhibitions at both Swansea Museum and Swansea Central Library.
World War One workshops are also being organised as part of the Glynn Vivian Art Gallery's off-site programme of events and activities.