Plans for 'huge' solar panel farm near Llanelli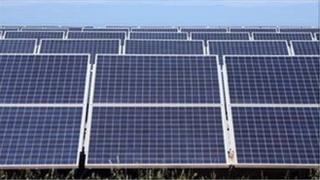 Plans for a 'huge' solar farm with 65,300 electricity-generating panels in the Carmarthenshire countryside are set to be given the go ahead.
The proposals for the farm based outside Five Roads village, near Llanelli, are recommended for approval in a council report.
It would mean rows of solar panels would line 28.8 hectares (71 acres).
Opponents, including Llanelli Rural Council, are concerned it would have a "detrimental impact on the landscape".
But the report said the site is "visually well contained".
County councillor Sian Caiach said "People who chose to live in the countryside could find themselves by a huge electricity site.
"We are losing prime farmland for electricity generation."
If agreed, the solar farm will take the form of rows or arrays of solar PV panels connected to the National Grid over an estimated 40-year period.
It has attracted a number of letters of opposition and a 230-name petition but the Carmarthenshire council report says "approximately 25% of the signatories do not live in the local area or indeed Carmarthenshire".
Plans to develop separate solar panel farms are also being pushed forward, including one covering 90 hectares (222 acres) next to Deeside Industrial Estate in Flintshire with 180,000 panels, enough to produce electricity for 11,000 homes annually.