Judicial review into Llanelli's Prince Philip Hospital A&E plans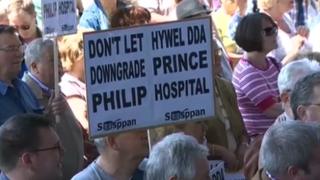 A judicial review will be held into controversial plans to downgrade A&E services at Llanelli's Prince Philip Hospital.
Opponents including heart patient Tony Flatley went to Cardiff's High Court to urge a judge to grant a full hearing.
They challenged the way Hywel Dda Health Board had carried out a consultation, and the part it played in the decision by the health minister.
Health board managers have insisted an overhaul of services is necessary.
They plan to change the A&E service into a nurse-led unit.
Mr Flatley, a member of the campaign group Save Our Services Prince Philip Action Network (Sosppan), heard Mr Justice Higginbottom agree to hold a full hearing.
It is expected to take place at the end of June.
Heath Minister Mark Drakeford took his decision last September after the health board plan was referred to him by patient watchdog Hywel Dda Community Health Council.
The following month the Welsh government said it was aware of the legal action being planned, and which moved to its next stage on Friday.
Health board managers have also said previously that a reorganisation of services was necessary to meet the challenges of an ageing population, retain and recruit medical expertise, and to cope with financial pressures on the NHS.
It is understood the High Court decision could also mean that a legal challenge to the changes in neo-natal services at Withybush hospital in Haverfordwest is also more likely.