Swansea Bay's £850m tidal lagoon plan a step closer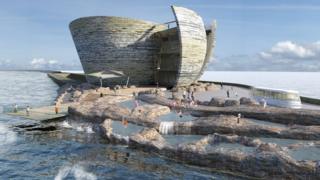 Plans for a £850m tidal lagoon in Swansea Bay are a step closer to being approved.
The blueprint, submitted last month, was given the go-ahead to move forward on Thursday.
The Planning Inspectorate has asked the public to make its representation about the lagoon, which could provide power for 120,000 homes for 120 years.
The six-mile, U-shaped seawall will go from Swansea docks to near Swansea University's new Fabian Way campus.
It would take two years to build and create 1,850 construction jobs.
There would also be 60 long-term operational jobs with up to another 90 linked to visitor spending and it is hoped it could be operating by 2018.
Sir Michael Pitt, chief executive of The Planning Inspectorate, said: "This is an opportunity for people to play a part in the planning process and influence the outcome.
"We encourage people to get involved by registering as an interested party. By doing so, people will be able to participate fully in the examination of this proposal."
The project also includes an oyster-shaped offshore visitor centre and national triathlon and water sports facilities
The public can register with The Planning Inspectorate until 11 April.