No confidence vote in Pembs council chief Bryn Parry Jones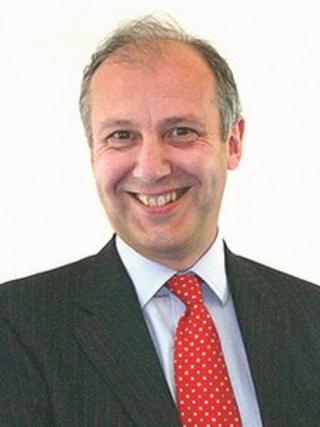 Union members are to hold a vote of no confidence in Pembrokeshire council's chief executive, Bryn Parry Jones.
Police are investigating after Mr Parry Jones opted out of a pension scheme to avoid potential tax payments.
Unison said its members working for the council deserved to be "heard".
Pembrokeshire councillors will also discuss motions of no confidence in Mr Parry Jones and monitoring officer Lawrence Harding, on Thursday. The council declined to comment.
Mr Parry Jones was given cash in lieu of employer pension contributions, which the Wales Audit Office (WAO) called "unlawful".
He has has remained in his post despite calls for him to step down.
"If this was one of our own members being investigated by the police in relation to such a serious matter then without doubt they would have been suspended until the outcome of any investigation," the union's branch secretary Vic Dennis said.
Unison area organiser Hugh McDyer added: "Our members should be able to have complete confidence in their leadership and clearly that is no longer the case in PCC [Pembrokeshire county council].
"We are now responding to calls for our membership to conduct a ballot in relation to a vote of no confidence in the chief executive.
"The members deserve to have their voices heard and we will be taking steps to organise the ballot immediately."
Avoid potential tax
Earlier this year the WAO said Pembrokeshire and Carmarthenshire councils acted unlawfully by letting both Mr Parry Jones and Carmarthen chief executive Mark James opt out of the pension scheme to avoid potential tax payments.
It is expected that by the end of March 2014, £51,011 will have been paid to chief executive Mr Jones and one other senior officer.
The auditor said the decisions to allow certain officers to receive payments, and then for payments to be made, were unlawful on several grounds.
Mr James has stood down from his duties while Dyfed-Powys Police investigate.
Earlier this year, a full meeting of Pembrokeshire council was due to vote on suspending Mr Parry Jones, but a number of councillors staged a walk-out after allegations that some people had already pre-determined the outcome.