Dogs destroyed after Eliza-Mae Mullane death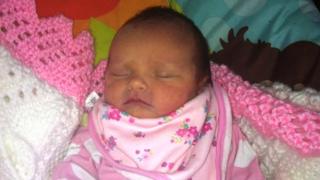 Two dogs have been destroyed following the death of a six-day-old girl from Carmarthenshire.
Eliza-Mae Mullane, from Pontyberem, died on Tuesday 18 February after an attack at her home in New Road.
Dyfed-Powys Police seized an Alaskan Malamute dog, and on Tuesday the force confirmed a collie-cross breed has also been put down.
Forensic tests of the family home have been completed and the investigation has been passed to the coroner.
Police were called to Eliza-Mae's home shortly before 08:30 GMT on 18 February. She was flown to the University Hospital of Wales in Cardiff but doctors were unable to save her.
One of the dogs, called Nisha, was taken away. The dog was not a banned breed.
The cause of the Eliza-Mae's death is not yet known and the force has not given any details of her injuries.
Paying tribute to their daughter Eliza-Mae, parents Sharon John and Patrick Mullane described her as a "dearly loved daughter" and said they would cherish the short time they had with her.
"She brought joy into our family, and losing her like this has cast the most horrible shadow over all of us," their tribute said.
"There are no words we can use to describe what we feel at the moment, and we don't think there ever will be."
They family also thanked the community for their support in a statement issued via police.
Alaskan Malamutes were originally bred as sled dogs for work in the Arctic but have become popular as family pets.
The Alaskan Malamute Club of the United Kingdom described the breed on its website as "heavy boned and powerfully built" as well as affectionate and friendly.