Pembroke boat firm Mustang Marine faces administration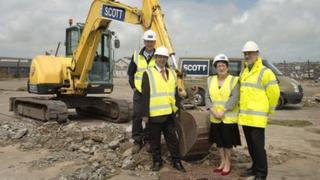 A boatbuilding and repair firm which opened a new £1.5m construction hall last November says it is in danger of going into administration.
Mustang Marine, based at Pembroke Port, managed to stave off closure before Christmas after significant losses on key contracts that had overrun.
About 130 jobs are at stake at the firm hailed as the first major investment in Milford Haven Waterway Enterprise Zone.
It has had millions in funding from the Milford Haven Port Authority.
In addition, the firm has received a cash injection from the Welsh government.
Last year it announced a £1.5m expansion scheme creating 100 new jobs.
Economy Minister Edwina Hart officially opened the company's new construction hall in November.
The company told BBC Wales that it would learn in the next few days whether it might be forced to go into administration.
Interim managing director Stewart Graves said the losses were reported to shareholders in November.
Long-term funding
He said: "In December the company had a significant cash shortage and faced closure prior to Christmas.
"With the assistance of the new management team and external advisers the directors were able to secure the offer of a long-term funding package from the Welsh government and Milford Haven Port Authority and an external third party.
"A cash grant was obtained from the Welsh government which enabled the company to continue trading and explore this long-term funding package.
"Unfortunately last week, after completing its review of the business, the external party withdrew its offer, and without that party the long-term funding package could not proceed."
Jamie Adams, leader of Pembrokeshire council, said it was "a sad day for the employees of Mustang Marine and their families who now have to go through some days of uncertainty".
Referring to November's opening of the new construction hall, he said: "It was hailed as a new dawn for boatbuilding in the town and I hope that a rescue package can still be put together even at this late hour."
Mr Adams said the council's regeneration team was poised to work with Jobcentre Plus, the Welsh government and other agencies to help workers find other jobs if the company did fail.
Mustang Marine's expansion was said to be the most ambitious part of a phased development in the historic former Royal Dockyard.
In its 200-year history, the dockyard has launched five royal yachts and more than 200 Royal Navy vessels.