Rohan Rhodes inquest: No consent for removing ventilator, hearing told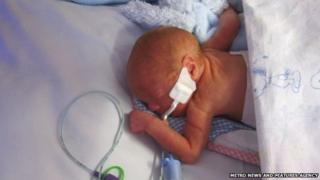 A premature baby deteriorated soon after a ventilator was removed without the consent of his parents or senior hospital staff, an inquest has heard.
Rohan Rhodes, of Narberth, Pembrokeshire, was born 15 weeks early at Singleton Hospital, Swansea, in 2012 and was transferred to St Michael's Hospital, Bristol, for surgery.
Medical staff wept as they told the hearing near Bristol how the baby's condition dramatically worsened.
Rohan died in hospital aged 36 days.
The inquest heard the baby was not allowed to die in his mother's arms despite her wishes because staff were unable to remove lines from his body.
Rohan had been transferred to St Michael's Hospital for a surgical assessment after a heart duct which usually closes at birth had remained open.
His parents Alex and Bronwyn Rhodes told the coroners' court on Monday about concerns they had about their son's treatment.
They said that Rohan's feeding tubes were inserted "aggressively" and caused him pain.
On Tuesday, Flax Bourton Coroner's Court heard from medical staff at the hospital who said the plan had been to keep Rohan on the ventilator.
However, the hearing was told advanced neonatal nurse Amanda Dallorzo took the "autonomous" decision to extubate, or remove the baby from the machine, and apply a breathing mask instead.
Rohan's condition dramatically deteriorated and he died the following day.
Commenting on Rohan's removal from the ventilator, Dr Vel Ramalingam said: "That was not my decision. It was not discussed with me.
"My understanding was that Rohan was going to be kept on the ventilator. I was expecting to be consulted if someone was taking that sort of decision to remove him.
"I thought the team plan was to continue ventilation."
Nurse Suja Thomas said she was asked by Ms Dallorzo to help take Rohan off the ventilator on 29 September, the day after he arrived at the hospital.
"I asked if she was sure," Ms Thomas said. "She said we will extubate and we extubated at around 4pm.
"A member of medical staff is telling me we have to extubate, then we have to extubate. That is their decision to extubate.
"The baby deteriorated after one hour."
Rohan's heart had started slowing and he was put back on the ventilator at 19:00 BST.
Mrs Rhodes previously told the inquest how she and her husband had watched their son turn "pale and lifeless" during this period.
'Grave concerns'
Timothy Rogers, a consultant paediatric surgeon, was called at 06:00 BST the following day, 30 September, to perform emergency surgery on Rohan.
He had developed a gastrointestinal disease and required surgery to repair a perforated intestine.
Dr Rogers said Rohan, who had developed acute peritonitis, suffered numerous cardiac collapses and did not become stable enough for surgery.
At 16:00 BST, Dr Rogers said he went to find Mrs Rhodes to inform her of his "grave concerns" for her son's survival.
Rohan died in his incubator at 18:00 BST.
A pathologist previously told the inquest he found multiple perforations to Rohan's bowel and said the likely cause of death was acute peritonitis and pneumonia.
St Michael's Hospital is part of the same NHS trust as Bristol Children's Hospital, which is the subject of a new investigation into the deaths of several children over the past three years.
The hearing continues.