£360,000 grant to regenerate Glynneath, Neath Valley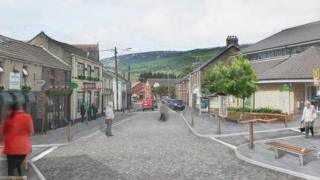 A Neath Valley town is to be regenerated after a grant of £360,000 was secured.
Glynneath town square will be revamped, with the town centre made more accessible and a car park will also be bought and improved.
The money for the works has come from the Welsh government's Western Valleys Regeneration Area initiative.
The Glynneath Regeneration Group has been set up to co-ordinate the delivery of the programme.
It brings together members from Neath Port Talbot council, Glynneath town council, Blaengwrach community council and representatives from the voluntary and private sectors.
Gareth Nutt, Neath Port Talbot council's head of property and regeneration, said: "Glynneath is a strategically important town in the Neath Valley.
"The council is committed to its valleys communities and we will continue to work hard to secure further funding for other projects in the regeneration programme to fully realise the potential of this part of the county borough."
Work is expected to start in March.