Women warned over binge drinking in Swansea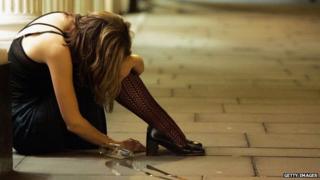 Young women are being urged to look after themselves on a night out or face ending up in hospital or a prison cell.
The warning comes following an increase in women found too drunk to speak and some being abusive to staff at Swansea city centre's medical help point.
There are also concerns about dressing inappropriately in the winter weather.
Wales' 26-3 Six Nations loss to Ireland followed by Swansea City's 3-0 Premier League win over Cardiff City 11 days ago saw a spike in the problem.
Jason Davies, city centre inspector for South Wales Police, said: "There were a small number of people who were very intoxicated and needed assistance.
"Help point staff experienced unacceptable abuse from females they were attempting to help, due to their extreme intoxication.
"I urge people to please be aware of your own limits and make your night out in Swansea one you enjoy and remember for the right reasons."
The Help Point is being run at Castle Square every Saturday throughout the period of the Six Nations.
'Highly concerned'
Since being trialled in the city centre in 2011 it has continued to run on key dates throughout the year.
"I am highly concerned about females leaving themselves vulnerable by becoming so intoxicated that they don't even know their own name," said Fiona Hughes, Safer Swansea Partnership Help Point coordinator.
"It is frightening to think what would happen to these women if help had not been available."
Jeff Morris from Wales Ambulance Service added: "As well as managing the level of alcohol people consume, they also need to dress appropriately for the weather.
"If the weather is awful... wear a coat, take an umbrella, and ladies, please carry flat shoes or flip-flops in your handbags."
Last year, Swansea council decided to restrict the number of premises allowed to sell alcohol after a report said Swansea city centre had reached "saturation point".
It was a move to help cut down on crime in the main drinking spot, Wind Street.
In January, a bar became the first to have its bid for extended opening hours rejected since the new saturation policy was introduced.