Carmarthenshire council agrees 4.77% tax hike to help save £30m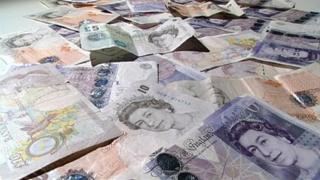 Council tax payers in Carmarthenshire face an inflation-busting rise of 4.77% in bills after budget proposals aimed at saving £30m were approved.
It means Band D property owners will pay around £1,030.
The county council has said that hundreds of jobs could also be at risk due to Welsh government funding cuts.
Significant changes could be made to elderly residential care but respite centres for severely disabled children will not face cuts.
The proposal to increase council tax by 4.77% is part of a package which includes a range of cutbacks and charge increases.
Road sweeping and litter collection face cuts but not flood defences.
Car park charges could extend into the evening and the price of school meals could rise.
A motion by opposition party Plaid Cymru to reject the proposals was dismissed and the budget was approved.
Pitch fees
Last October, council leader Kevin Madge announced "many hundreds" of jobs could be lost in order to make savings as a result of the Welsh government's draft budget.
In January, it was revealed people using council sports grounds in Carmarthenshire could see costs rise by nearly five times in the next few years as the council seeks to cut spending.
The charge for using some rugby pitches for an adult match could rise from £49 to £235.
Carmarthenshire council chief executive Mark James was absent from the meeting as he is not carrying out his duties "by mutual agreement" while police investigate payments to him described as unlawful by a spending watchdog.
Mr James and Pembrokeshire chief executive Bryn Parry Jones received cash payments in lieu of employer pension contributions.
Dyfed Powys Police said the matter should be investigated to see whether any criminal offences had taken place.
Both councils have vigorously defended the payments as lawful.