Carmarthenshire council chief steps down during police inquiry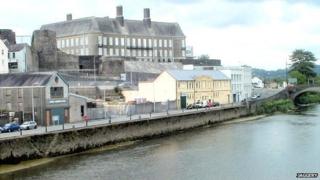 Carmarthenshire council's chief executive has stepped down while police investigate payments to him described as unlawful by a spending watchdog.
Mark James had cash payments in lieu of employer pension contributions when he opted out of the staff pension scheme.
Mr James said it was "right and proper" he should not be in the office while police concluded their inquiries.
But he said he was "absolutely certain" that neither he nor any of his officers had done anything wrong.
The decision came as Pembrokeshire council held an extraordinary meeting to discuss a similar issue, involving its chief executive Bryn Parry Jones.
Councillors there voted to accept a Wales Audit Office (WAO) report into the matters. There was later a mass walk-out by opposition members, with the leader of the Labour group in Pembrokeshire branding the discussions "a disgrace".
Following the intervention of the spending watchdog, Gloucestershire Constabulary will conduct an investigation into both councils.
Both councils have maintained the payments were lawful, while Carmarthenshire strongly criticised the WAO.
The payments were to avoid tax liabilities when Mr James left the Local Government Pension Scheme.
More than £27,000 was paid to Mr James under the scheme since 2012.
'Mutual agreement'
The WAO said the council had since "rescinded its decision to offer a pay supplement in lieu of pension contributions and announced that no further payments will be made to the chief executive from January 2014".
Another WAO report that found a payment to cover Mr James's costs in launching a counter-claim in a libel action brought by a local blogger was also unlawful.
In a statement, council leader Kevin Madge said: "By mutual agreement the Chief Executive Mr Mark James will no longer undertake his duties as chief executive from now until police inquiries concerning the two Wales Audit Office public interest reports have been concluded.
"I welcome the police investigation which will give the public the assurance they deserve.
"The auditor has not referred his reports to the police nor has he made any suggestions of any criminal wrongdoing, and I hope that the investigation can be concluded as quickly as possible in order for us as a council to move forward."
Mr Madge said Deputy Chief Executive Dave Gilbert would fill in for Mr James while he was away.
Mr James said that temporarily stepping down during the police inquiry would "avoid any perception of undue influence being brought to bear".
He added that he hoped the investigation would be conducted "as quickly as possible" as this was "in everyone's best interest".
Mr Madge concluded the statement: "I have nothing further to say on this matter - there will be a full, frank and public debate on the reports at the council meeting of February 27."
The WAO has also said cash payments to Pembrokeshire council's chief executive Bryn Parry Jones in lieu of employer pension contributions were unlawful.
Walkout protest
Pembrokeshire council has insisted its pension payment policy was within the law.
However, at Friday's extraordinary meeting, Pembrokeshire's council leader Jamie Adams did accept mistakes had been made in the decision-making procedure.
He promised that meetings which were supposed to be open to public scrutiny would never again be held in the chief executive's office.
That did not prevent opposition councillors staging a walkout following a motion calling on the chief executive to be suspended.
That motion was withdrawn following the walkout, and the council eventually voted to accept the report and recommendations from the WAO, while accepting some contractual agreements with staff must still be resolved.