Dylan Thomas's replica shed goes on UK tour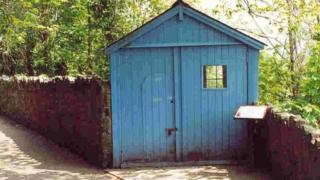 A replica of poet Dylan Thomas's writing shed is beginning a tour as part of a festival celebrating the 100th anniversary of his birth.
The shed, built last month, will be taken around the UK from Friday.
Visitors can make up a new word which will be published in a Dictionary of Dylan, in honour of his love of words.
The original shed sits above the Boathouse in Laugharne, Carmarthenshire, where Thomas lived for four years before he died in 1953.
Creators of the replica shed have paid close attention to even the smallest detail, including curled-up pictures on the walls.
Stops on the tour include the Hay Festival, the Royal Welsh Show and the National Eisteddfod.
The shed has views over the Taf estuary and Gower and the first poem Thomas wrote in it was Over Sir John's Hill, in which he described the view.