Police to investigate payments to council chiefs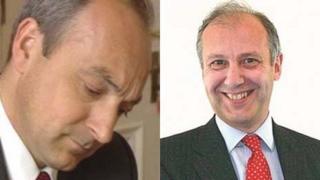 Police are to investigate payments by two councils to their chiefs described as unlawful by a spending watchdog.
Carmarthenshire chief executive Mark James and Pembrokeshire's Bryn Parry Jones received cash payments in lieu of employer pension contributions.
Dyfed Powys Police said the matter should be investigated to see whether any criminal offences had taken place.
Both councils, who have vigorously defended the payments as lawful, have been asked to respond to the news.
Gloucestershire Constabulary will conduct the investigation.
Carmarthenshire and Pembrokeshire insisted their pension payment policies were lawful following the Wales Audit Office (WAO) reports.
However, the councils agreed to look again at how the decisions were made after the findings were published last month.
A police statement on Wednesday said: "Dyfed Powys Police have now fully considered the three public interest reports published on 30th January 2014 by Wales Audit Office, into matters relating to Carmarthenshire and Pembrokeshire County Councils.
"As a result, the force has decided that it is a matter which should be investigated in the public interest by the police, to ascertain whether or not any criminal offences have taken place.
"Due to the close working relationships and partnership arrangements that exist between Dyfed Powys Police and both local authorities, it is not appropriate for the force to carry out the enquiry.
"As such the matter has been referred to Gloucestershire Constabulary, who will undertake the investigation.
"Dyfed Powys Police would like to make it absolutely clear that this decision has been taken by the police alone, and has in no way been influenced by political commentary or media reporting on this issue."
The WAO said that both authorities had acted unlawfully in allowing the chief executives to opt out of the local government pension scheme (LGPS) to avoid potential tax payments.
Assistant auditor general Anthony Barrett conducted two reports into Carmarthenshire council - the first into pension payments, and another into the decision to grant an indemnity to the chief executive to bring a libel counterclaim.
He said the council acted "contrary to law" by allowing senior officers to opt out of the LGPS.
More than £27,000 was paid to Mr James under the scheme since 2012.
Carmarthenshire council said it was pleased the report did not think its pensions policy was unlawful but that its procedural process was flawed.
It said steps had been taken to sure ensure such matters are considered as separate items on an agenda.
'Too late'
The council said it remained convinced that indemnifying Mr James in the libel action was correct, and claimed the audit office had not objected to the policy when first consulted on it.
The local authority said the audit office had changed its mind on the issue some months later, and claimed it was "too late for us to turn back the clock".
Carmarthenshire council leader Kevin Madge said he welcomed police involvement.
He added: "This is now the only way for the public to have the reassurance that they deserve.
"I am proud of what we have achieved in these past two years and with our budget proposals moving us towards a living wage, investing in the future and protecting vital services I am confident for the future.
"We need an end to the political point-scoring that have dogged this authority, and I am hopeful that the other parties and groups are willing to put aside past differences and work together to secure a better future for Carmarthenshire.
"The last few weeks have been difficult for the authority and I want to put on record my thanks to the staff for their hard work and continued commitment."
Mr Madge said he had asked the Welsh Local Government Association to lead an external review of the council's corporate governance.
In a separate report on Pembrokeshire council, Mr Barrett concluded similar pension arrangements for some senior officers were also contrary to law.
It is expected that by the end of March 2014, £51,011 will have been paid to chief executive Mr Jones and one other senior officer.
The auditor said the decisions to allow certain officers to receive payments, and then for payments to be made, were unlawful on several grounds.
Pembrokeshire council also insisted its pension payment policy was lawful.