New plans to develop Swans' former Vetch Field home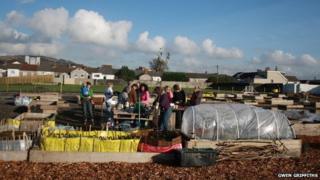 New plans have been put forward to revamp the site of Swansea City FC's former Vetch Field home.
The Vetch was demolished in 2011, six years after the Swans moved to the Liberty Stadium, in a bid to attract a developer for the site.
But no-one came forward and the site was landscaped with an allotments section called the Vetch Veg project.
Now a new scheme will involve building sheltered housing, a care home or flats, and a shared community facility.
Under the title the Vetch Masterplan, there will 40 terraced homes built to fit in line with the rest of the Sandfields area, while the Vetch Veg project will be extended.
There would also be an open play area for children, a community orchard and a wild flower meadow where the centre circle was on the pitch of the old stadium.
A community centre could be added further down the line.
Nick Bradley, Swansea council's cabinet member for regeneration, said: "The purpose of the masterplan is to provide a blueprint for the future development of the site that's sustainable in the long term, acceptable to local residents and offers opportunities to potential developers.
"Since the demolition of the old Vetch Field stadium there has been a significant greening of the space left behind, and the Vetch Veg project in particular has been a real boost to the community which no-one wants to lose.
Community history
"The new masterplan is focused on creating a sustainable design which can work for everyone.
"From being the home to our city's local football club, the masterplan aims to use the Vetch to create a new kind of community history and sense of belonging that will last for generations to come."
The plans will be discussed by Swansea council's cabinet and will go out to consultation if they receive backing.
The Vetch was the Swans' home from 1912 until its final game in 2005, when fans grabbed pieces of the turf or snatched seats as keepsakes.
The 10,000-capacity stadium site laid dormant afterwards and was initially put on the market in late 2009 with a view to turn the land into housing made up of 120 two, three and four-bedroom properties, a play area and a community centre.
But the economic downturn was blamed for a lack of interest from developers.
Then in 2011 Swansea council received a £700,000 grant from the Welsh government to demolish the stadium and flatten the site in a bid to attract more interest but it failed to do so.
So until now the area has remained landscaped with the Vetch Veg part of it.