Swansea and Cardiff football fans praised for good behaviour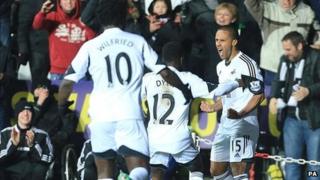 Football fans have been praised for their behaviour at Saturday's Welsh derby between Swansea and Cardiff.
The game ended with a 3-0 victory for Swansea City on home turf in front of a capacity crowd of 20,402 spectators.
Officers said the vast majority of supporters before, during and after the game at the Liberty Stadium were well behaved.
Three men from Rhondda were arrested for alleged assault, public order and drunk and disorderly offences.
Match commander Supt Phil Davies said: "Once again Swansea and Cardiff supporters have created a great atmosphere and enjoyed a trouble-free occasion at the Liberty Stadium.
"There were three arrests of individuals who clearly had too much to drink and they will now face the consequences of their actions.
"I am pleased with the way we have worked in partnership with both clubs in preparation for this game and just like at the reverse fixture in Cardiff, a positive impression has been left with the millions of people who watched this game across the world."
A 47-year-old man was arrested for being drunk and disorderly in a public place after he was refused entry to the stadium.
A second man, aged 55, was arrested for an alleged public order offence, while another man, aged 30, was arrested on suspicion of assault inside the stadium concourse.
All three were taken to Swansea Central Police Station.
The game was the 107th derby between the teams and their second in the Premier League.