Jail for 'sleep' driver who ran over mum and baby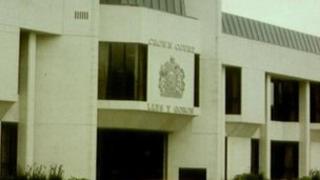 A motorist who knocked down a mother and her 11-week-old baby after falling asleep at the wheel has been jailed for 20 months.
Sharon Silvester Hughes, 55, from Cwmbwrla, Swansea, pleaded guilty to causing serious injury by dangerous driving.
Swansea Crown Court heard Hughes had not slept properly for 24 hours before the incident in Port Talbot last March.
The mother and child received multiple fractures in the collision.
The court heard Hughes, who had suffered with psychiatric illness, had spent the 24 hours before the collision at a car boot sale and on a beach with a friend.
Judge Paul Thomas said Hughes had taken control of a lethal object - her car - after going without proper sleep.
As a result, she changed the lives of her two victims forever, he said.
Deborah Dowrick, 42, from Baglan, spent almost three months at a Swansea hospital recovering from multiple fractures.
Her baby son Eli suffered severe fractures and was treated at the University Hospital of Wales, in Cardiff.
Hughes was told she must serve 10 months in prison before she would be released to serve the rest of her sentence on licence.