Suspend council chief now, says Labour AM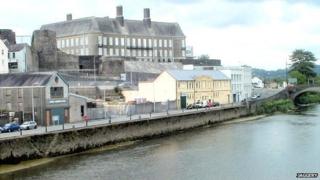 A Labour AM has called for Carmarthenshire council's chief executive to be immediately suspended.
The comments follow an auditor's report that found that payments made to Mark James when he opted out of the staff pension scheme were unlawful.
Llanelli AM Keith Davies said Mr James should be suspended while the council considers the issue.
The council has maintained the payments were lawful and strongly criticised the Wales Audit Office (WAO).
The payments were to avoid tax liabilities when Mr James left the Local Government Pension Scheme.
More than £27,000 was paid to Mr James under the scheme since 2012.
The WAO said the council had since "rescinded its decision to offer a pay supplement in lieu of pension contributions and announced that no further payments will be made to the chief executive from January 2014".
Another WAO report that found a payment to cover Mr James's costs in launching a counter-claim in a libel action brought by a local blogger was also unlawful.
The council will debate the reports later this month but Mr Davies said: "I think they should really say 'let's have a report from an independent person or group' and then come to a decision.
"And during that time I feel that the chief executive should not be there so he cannot influence anything of the discussions that take place.
"I think he should be suspended as was, and is, the case in Caerphilly."
The WAO has made it clear that it may go to court if Carmarthenshire refuses to accept its findings that the payments were unlawful.
'Independent scrutineers'
But in an interview for BBC Wales, Mr Davies said: "You know when the legal people get involved it does cost quite a small fortune and it would be a tragedy if we went that far.
"My feeling is that the local authority should listen to the Wales Audit Office and not fight against them because the WAO are independent scrutineers, that is what they are there to do."
"What happened in Caerphilly council, of course, there was some arrangement made in a little cabinet meeting to increase the salary of the chief executive and the staff walked out and said we want an independent investigation.
"I think that's what ought to happen in Carmarthenshire.
"The Dyfed Pension Fund has suffered and therefore I think the councillors in Carmarthenshire need to have independent advice.
"They've already had a report now from the Wales Audit Office and if they want independent advice I would support that but I don't think it should be internal.
"When you are the chief officer and all the other senior officers within the authority could benefit as well, how can you have independent advice from people who could be personally affected? I don't think you can have it."
Responding to Mr Davies's call, Carmarthenshire council said in a statement: "The chief executive took the personal decision to opt out of the pension scheme, a decision he, or any other individual who is in the scheme, is legally entitled to do.
"No contributions are due from any employee who is no longer a member of the fund."