Joanna Hall murder: Steven Williams jailed for 22 years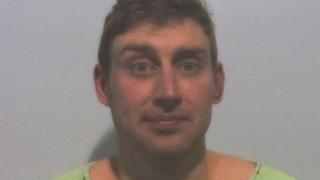 A chef who stabbed his girlfriend 40 times and waited five hours before calling 999 has been jailed for life and must serve 22 years.
Steven Williams, 31, attacked Joanna Hall at her flat in Tenby, Pembrokeshire, and waited five hours before calling for help.
Ms Hall, 35, died three weeks after the attack but was able to tell police what happened to her from her hospital bed.
Williams was found guilty after a three week trial at Swansea Crown Court.
Sentencing, Mrs Justice Nicola Davies said Williams' actions were: "brutal, callous and reprehensible, but does not warrant the description sadistic".
She added: "This was a sustained and brutal assault using a knife or knives upon a defenceless victim.
"You stabbed Joanna over 20 times, on occasions penetrating organs within her body.
"Joanna lost 30 to 40% of the circulating blood in her body. You refused her the medical treatment she needed, and for which she asked.
"You sat with her and watched her bleed."
The jury reached a 10-2 majority verdict on Thursday after deliberating for about eight-and-a-quarter hours from Wednesday afternoon. Williams did not react to the verdict.
Williams, an alcoholic, claimed throughout his trial that an unknown knifeman had broken into the property in the morning while he briefly went to the shops to buy alcohol.
But Ms Hall was conscious when the air ambulance arrived to help and was able to say what had happened, naming her attacker.
The court heard Ms Hall was repeatedly slashed and stabbed all over her body, with some of the injuries causing internal damage.
Williams denied that he had been in a relationship with Ms Hall but she revealed it to her sister, Georgina Marwick, in hospital.
Scared
When asked who had stabbed her, she replied: "Someone I know. I've been seeing him and his name is Steven Williams."
Mrs Marwick had told the court: "He got a knife and he stabbed her. Jo didn't want to tell the police because she was scared.
"She said that he'd threatened if she told anyone, he'd come and finish her off or get someone else to do it.
"She said she had asked him [Steven Williams] to phone for help, but he refused saying 'you have a choice, take your life, or I'll take it for you'."
The court had heard how Mr Williams had said that he "didn't want to have to do this, but I'm going to have to kill you now. I'm not going back to prison".
Mrs Marwick said her sister had told her that Williams had sat with her all night, just smoking cigarettes.
"She remembers struggling to take a deep breath. He said 'will you just die?'" she said.
Ms Hall told her sister: "The knife was silver. EastEnders was on TV. I begged him to call an ambulance. He stayed all night. I was in so much pain."
Argument
Williams claimed in his defence he went to Ms Hall's flat very early on 16 March, drinking whisky on the way, because he thought she had been self-harming.
At about 07:30 that morning he went to the shop and left Ms Hall stroking her pet dog on the sofa, the court was told.
When he returned a short time later, he found her injured, he claimed.
But jurors had heard from a neighbour that there was a noisy argument in Ms Hall's flat during the early hours.
Williams claimed the argument lasted for up to 10 minutes and was sparked when Ms Hall tried to kiss him - but had not mentioned it until giving evidence as he "did not think that it was relevant".
After sentencing, Det Insp Carl Roach said: "This crime has repulsed Joanna's family, the community of Tenby and the investigation team.
"Today's sentence is welcomed, as without doubt the public are safer with Steven Williams being firmly behind bars.
"Joanna's family have showed the utmost dignity and patience during this difficult time - it is to them and the investigation teams in Dyfed-Powys that I pay tribute."