Neath Magistrates' Court to close and work to go to Swansea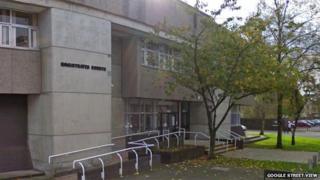 The magistrates' court in Neath is to close and its work will be transferred to Swansea, Her Majesty's Courts and Tribunals Service (HMCTS) has said.
The building, which opened in 1977, needs more than £1m of work and the closure will also save about £220,000 a year in running costs.
It will now be demolished as part of the £13m redevelopment of Neath town centre.
A consultation on the court's future took place last year.
No date has been given for the closure.
Underutilised
"Following consideration of the responses to the consultation, the government has decided that Neath Magistrates' Court should close," an HMCTS spokesperson said.
"The court is in an area of Neath town centre that is proposed for redevelopment.
"It is currently underutilised and requires significant expenditure on maintenance which does not represent the best use of our limited resources.
"We are committed to ensuring that we continue to provide court and tribunal users with effective access to justice while seeking ways to do so at a lower cost and alongside our efforts to improve the efficiency of the justice system as a whole," the spokesperson added.
The decision is a further blow to Neath Port Talbot which has already lost the magistrates' court in Port Talbot.
An option to move to the nearby county court in Neath was dropped over costs.
'Local justice'
One magistrate is stepping down from the bench over the latest decision.
John Rogers, a councillor in Port Talbot, said: "It's disgusting that a county borough of 138,000 people have no magistrates court.
"Local justice has been around since 1361 and the removal of local justice from Neath Port Talbot means I will no longer be able to sit with local people discussing local matters.
"I've been doing this 25 years but I will not be going to Swansea. I've got nothing against Swansea but I believe in local justice."
Neath AM Gwenda Thomas said 90% of the respondents to the consultation opposed the closure.
She added: "I, and many others, made strong arguments for retaining the court service in Neath. This decision will harm court users, the administration of justice and the economy of Neath town centre.
"By substantially increasing the journey time for witnesses and defendants, this move will lead to more missed court dates, more cancelled trials and more expense."