Steven Williams murder jury out on Joanna Hall stabbing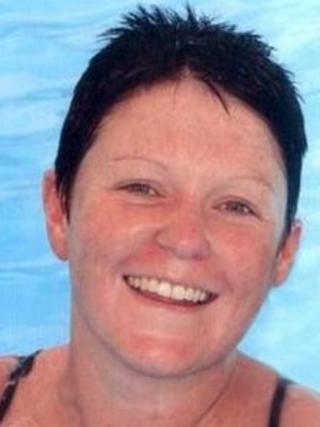 The jury has gone out in the murder trial of a man who denies stabbing his girlfriend 40 times and waiting five hours before calling 999.
Swansea Crown Court has heard Steven Williams, 31, said "Will you just die?" after attacking Joanna Hall at her flat in Tenby, Pembrokeshire, last March.
Mr Williams, of Tenby, says a "mad man" must have broken in while he was out.
Ms Hall, 30, who had just started going out with Mr Williams, named him as her attacker when she was in hospital.
She died three weeks after the attack.
Mr Williams, who has described himself as an alcoholic, claims that an unknown knifeman must have broken into the property early in the morning while he briefly went to the shops to buy whisky.
But Ms Hall was awake when the air ambulance arrived and was able to say what had happened, naming Mr Williams as her attacker, the court has heard.
Ms Hall was repeatedly slashed and stabbed all over her body, with some of the injuries causing internal damage.
Mr Williams, a chef, has denied being in a relationship with Ms Hall but she confirmed it to her sister while she was in hospital, the jury has been told.
'Bit of a blur'
Summing up on Wednesday, the judge Mrs Justice Nicola Davies reminded the jury that Mr Williams maintains that someone had gone into the property and had stabbed and slashed Ms Hall repeatedly before hiding the knife and leaving.
He had also denied the prosecution's suggestion that he had forgotten that he had stabbed Ms Hall because of his drink problem.
Mr Williams admitted he was "drunk-ish" when he was seen buying a small bottle of whisky from a garage late the night before Ms Hall was attacked.
The next morning the defendant was seen at a local Sainsbury's store at 07:42 buying whisky.
Judge Davies said Mr Williams's account was that he left Ms Hall on the sofa with the dog.
When he went into the front room he found Ms Hall on the floor bleeding excessively but the situation was "a bit of a blur".
When he realised Ms Hall was cold, he got her a duvet and a glass of squash and then moved a fire closer to her.
He did not immediately call an ambulance, Judge Davies reminded the jury, as he just did not think about it.
She said Mr Williams had been asked by prosecuting counsel why it was half an hour before he rang 999 after a visiting friend had told him to ring for an ambulance.
Mr Williams said he was panicking and did not know what to do. He denied that he was panicking because he had done it, the judge said.
The jury was sent home for the night at 16:15 and will resume its deliberations on Thursday.