Dairy Crest closes in Whitland for second time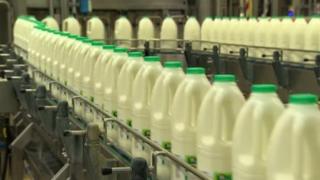 A dairy in Carmarthenshire is closing less than a year after it was taken over by a company which closed its site there 20 years earlier.
Dairy Crest prompted an outcry when it closed its Whitland plant in 1994.
Proper Welsh Milk invested £1.5m launching a new dairy nearby in 2011, but later ran into financial trouble.
Dairy Crest took control of the site last March but announced its closure in December with the loss of 31 jobs, blaming falling sales and rising costs.
It is the latest step in the centralisation of milk processing and the shattering of some people's dreams for Welsh milk to be bottled in Wales.
When Proper Welsh reopened a dairy at Whitland in 2011, it was heralded as an important success for Wales.
Richard Arnold, one of the main movers behind setting up the company, saw it as important to the dairy sector and better for the Welsh economy than milk being taken by tanker from to England only to be brought back in bottles to Pembrokeshire.
Employees' wages
The company borrowed heavily to put milk processing equipment into the former Dairy Crest site and started bottling Welsh milk in October 2011.
But when a bank changed the terms of its financing 17 months later, Proper Welsh found it could no longer pay its bills, or even its employees' wages.
Ironically, on St David's Day 2013, Dairy Crest, which had closed the Whitland site 19 years earlier, stepped in and bought it.
It was at that site that milk was processed, for instance, for Marks and Spencer which was adamant that it wanted Welsh milk on its shelves to have been processed and bottled in Wales.
But now Dairy Crest is closing the site for a second time and the Proper Welsh brand dies with it.
Milk from 122 Welsh farms will now be processed at Stonehouse, near Stroud in Gloucestershire.
Shelf life
Mike Sheldon from Dairy Crest says they are very sad to be closing the Whitland plant but it needed considerable investment in new machinery to give the milk the shelf life that supermarkets demand.
He said there is a balance between giving customers what they want in terms of knowing where their milk is from, and also delivering value for money.
The closure of the Whitland site highlights a developing trend.
The dairy sector is still very important to the Welsh economy. It accounts for around 27% of farm output here compared with 17% for the UK as a whole.
But, according to industry group DairyCo, the number of dairy farmers in Wales fell from 3,181 in April 2002 to 1,904 in October 2012.
What is also significant is the small proportion of dairies processing milk that remain in Wales.
Keeping milk Welsh
In contrast, vast amounts of Welsh milk travel to England for processing from a raw material to a more profitable product. Some joins the general UK milk pool while some returns to Wales.
Dairy Crest is adamant that all the Welsh milk that it will be processing near Stroud in Gloucestershire will be kept separate and that they can guarantee its Welsh origin.
It has installed complex computer systems to track individual batches of milk from specific farms all the way into the bottles.
Now there is only one dairy in Wales processing milk for supermarkets - Tomlinsons near Wrexham.
A generation ago the milk processing plant at Whitland dominated the area.
From today it will be empty once again and the dreams of those behind Proper Welsh lie shattered.