Steven Williams found Joanna Hall 'bleeding excessively' court hears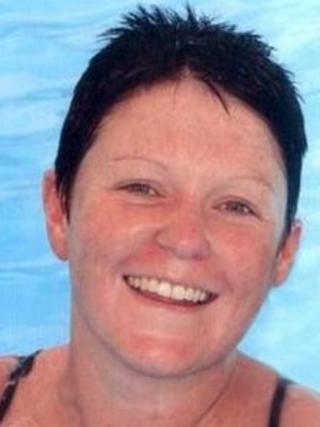 A man accused of stabbing his girlfriend more than 40 times has said he found her "bleeding excessively" after returning from the shops.
Steven Williams, 30, told Swansea Crown Court he panicked and covered Joanna Hall with a duvet at her home in Tenby, Pembrokeshire, in March 2013.
But Mr Williams, who denies murder, did not call the police or an ambulance.
Ms Hall, who died three weeks later, claimed Mr Williams stabbed her, jurors heard.
Giving evidence in his defence, Mr Williams told the jury he went to Ms Hall's flat very early on 16 March, drinking whisky on the way, because he thought she had been self-harming.
At about 07:30 GMT he went to Sainsbury's and left Ms Hall stroking her pet dog on the sofa.
'Stomach protruding'
When he returned a short time later, he found her injured, he claimed.
"Joanna was on the floor, bleeding excessively," he said. "At first I thought she might have tried to hurt herself again, but on closer look, I saw that her stomach was protruding. I panicked."
Chris Clee QC, defending, asked Mr Williams what he did.
"It's a bit of a blur," he replied.
"At first I searched the flat to see if anyone was there. I got her a duvet."
He then put the fire on, he said, because she was cold and got her a glass of squash.
But when asked why he did not phone the police, he replied: "I just didn't think about it."
His friend Steven Camp arrived soon after and told him to ring an ambulance but then left, the court heard.
Mr Williams told the jury he was not in a relationship with Ms Hall, but said he believed she wanted them to be together.
Kiss
The jury has previously heard from a neighbour who claimed there was a noisy argument in Ms Hall's flat from around 01:30 GMT.
During cross-examination, Mr Williams claimed he believed they argued briefly for up to 10 minutes closer to 02:00 GMT and said it started when Ms Hall tried to kiss him.
When Elwen Evans QC asked why this piece evidence had not been revealed, the defendant replied: "It has been there all along. I just did not think that it was relevant."
Ms Evans asked: "So you have deliberately not told anyone about the argument." He replied: "No, it has just not come out."
She then asked: "Anything else you can think of that has not come out?" He said: "No."
Massive blood loss
On Tuesday, an expert in body temperatures, Professor Tim Harris, from Queen Mary University of London, told the court Ms Hall was in stage four shock - "the most blood you can lose without your heart actually stopping beating," on arrival at hospital.
"That degree of blood loss is universally fatal. If this woman had not received medical treatment, she would have died in the flat. I have never come across a case where anyone suffering these injuries and survive."
Ms Hall died of multiple organ failure after considerable blood loss as a result of her injuries, he said.
"If the police or ambulance had been there in 20 minutes of wounding her, the probability of survival would have been much, much higher," Prof Harris said.
Toxicology reports showed Ms Hall had not been drinking alcohol.
Previously, the trial heard Ms Hall told her sister Georgia Marwick, while she was being treated in Morriston Hospital, that Mr Williams stabbed her after an argument.
Ms Marwick said Mr Williams smoked cigarettes after the attack and told Ms Hall, 'will you just die?'
The trial continues.