Swansea bar loses licence extension bid under new policy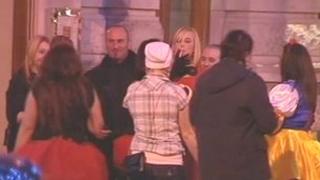 A bar has become the first to have its bid for extended opening hours rejected since Swansea's new saturation policy was introduced.
Councillors voted in July to limit the number of bars in the city centre, which has over 250 licensed premises, as part of the policy.
Jack Murphys in Wind Street wanted to change its licence to stay open until 03:30 every day.
But police raised objections and were backed by Swansea council.
The new policy can be triggered by the police, health authority, council or similar organisation if a new application would add to the cumulative impact of licensed premises already in the area.
It means that licence applicants have to prove their proposal will not have a negative impact.
Swansea city centre chief inspector Keith Jones, of South Wales Police, said: "Up until this application, all other licensed premises have supported the common aim of creating a safe night-time economy in Swansea.
"If this extension had been granted, then it would have led to further applications and 3.30am licenses would quickly become the norm, rather than the exception.
"We are pleased that the local authority has recognised the totally negative impact later opening hours would have on the city centre.
"We will continue to work with all our partners within Safer Swansea to make the city centre a safer place for everyone."