Glynn Vivian art gallery £6m revamp 'to resume'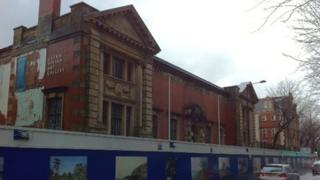 Work to finish the £6m facelift of Swansea's Glynn Vivian art gallery looks set to resume, seven months after the original developers went bust.
The work includes refurbishing the 1911 building, a new entrance and re-cladding of the 1974 gallery extension.
The project is being funded by the Welsh government, the Arts Council of Wales and Swansea council.
Swansea council said it expected to make an announcement in the next fortnight for work to restart in March.
The art gallery had been scheduled to open this autumn.
Once the work is complete, it is hoped the gallery will attract about 90,000 visitors a year, double what it brought in before closing in 2011.
Other features of the upgrade will include a dedicated reading and resource centre devoted to visitor research, wi-fi access and improved facilities for working with schools and colleges.
A new storage and conservation area to enable the future development of the collections will also be provided together with enhanced workshops.
During the works, staff at the Glynn Vivian have a programme of activities and events, including educational workshops, in different venues across the city.
They include the YMCA on St Helen's Road, central library in the civic centre and Swansea Metropolitan University's school of art.
A Swansea council spokesperson said: "It was unfortunate that the original contractor went into administration but we've been working very hard alongside our partners ever since to appoint a new contractor we feel can best deliver the remainder of this exciting refurbishment project.
Library and archive
"That process is now just about complete and we expect to make an announcement in the next fortnight.
"We hope work on site can restart by March and are aiming for the project to be complete by the spring of 2015.
"The original project will still go ahead in its entirety.
"It will include a new shop and entrance to the 1970s wing, more space for displays and exhibitions, a new lecture space and community room, a new welcome area for learning programmes, and a dedicated library and archive.
"An off-site programme of events and activities will continue until the refurbishment is complete."