Warning after landslide at Rhossili beach on Gower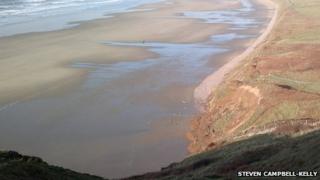 A cliff landslide has crashed onto a south Wales beach which has been voted one of the most beautiful in Europe.
Tonnes of rocks and earth gave way on to Rhossili on Gower.
Nobody was injured in the collapse, believed to have happened early on Wednesday, but the public have been asked to take care on the cliffs.
Steven Campbell-Kelly, owner of the Rhossili Gallery and a volunteer for Rhossili Coastguard Cliff Rescue, fears the weather could lead to more slips.
The landslide happened close to the remains of Rhossili's medieval village.
The National Trust, which owns the beach, had already closed steps leading to it after ground underneath was undermined following the storms earlier this month.
Disappeared
Last year Rhossili was named third in a list of best European beaches in a survey of worldwide tourists by the TripAdvisor website. It was the highest placed UK beach on the list.
Mr Campbell-Kelly said he was not surprised that Rhossili was the latest coastal area to be affected after the storms.
"You've only got to look around the country to see how much has disappeared," he said.
"It looks to me as if there is going to be another collapse there."
Rhossili Bay is a three-mile (4km) stretch of white sand with Worm's Head at one end - a small tidal island and the most westerly tip of Gower - and on the other there is the other small tidal island of Burry Holms.
Along the beach is a sole building - the Old Rectory, an old house dating to the 1850s which is now owned by the National Trust - and a shipwreck can be seen on the sand at low tide.
Steve Jones, Swansea Coastguard rescue co-ordination manager, said: "We would urge members of the public to take extra care after all this wet weather.
"We now have evidence that we are getting these falls and we would ask people to be very cautious when they are out walking around cliffs."