Collapsed WW1 graves at Llanion cemetery may be exhumed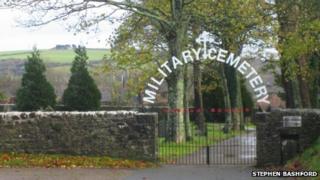 The Ministry of Defence may have to exhume the bodies of six servicemen from the First World War buried in a military cemetery in Pembrokeshire.
Llanion Cemetery at Pembroke Dock was closed early last year because of the condition of some of the graves which date from both world wars.
Officials are now trying to trace relatives of six servicemen whose graves have collapsed.
The MoD said it was hoping to avoid exhuming any remains.
A spokeswoman said: "It is believed the graves date back to the early part of the 20th Century so it may be difficult to trace any descendants."
The cemetery is the resting place for 23 Commonwealth service personnel from World War One, including two unidentified Royal Navy sailors.
It also has 51 World War Two Commonwealth burials, including four unidentified sailors and one airman.
'Complex operation'
A spokesperson said: "We are currently assessing available options, one of which would not involve any exhumation and expect to make a decision on how to proceed shortly.
"The MoD is in the process of trying to locate relatives of those buried in affected plots.
"The cemetery will re-open as soon as it is safe to do so. However, it is a complex operation which requires specialist input from a number of partners."
The cemetery is managed by the Defence Infrastructure Organisation but 73 graves are the responsibility of the Commonwealth War Graves Commission.
The commission said exhumation was always a last resort but it wanted to make the families aware of the situation.
A spokesman said: "There are a number of available options being assessed and a decision is expected shortly."