Mystery of pet dog left on Swansea train deepens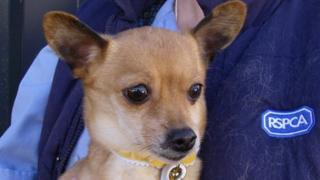 A dog found on a train in Swansea may have got separated from his owners who were heading to London, the RSPCA says.
Officers believe the small brown Chihuahua may have remained on the train last Thursday as it made its way back to Swansea, and its owners have no idea where he ended up.
Efforts to trace them through the pet's microchip have failed because it was not issued in the UK.
Anyone with information is asked to call the RSPCA on 0300 1234 999.
The dog was discovered in a carry case by a guard on Arriva Trains' Manchester Piccadilly to Carmarthen service.
Lost en route
A couple with a Chihuahua and a German Shepherd got off a Fishguard train and asked a police officer for directions at Swansea last Thursday.
Officers believe they may have been travelling to London, or possibly abroad, and could be looking for the pet.
RSPCA inspector Nick De Celis told BBC Radio Wales: "We think the Chihuahua may have got on board at Swansea heading to London, been lost en route, and then eventually the train found its way back to Swansea.
"So if the owners are looking for it they may have no idea at all that the Chihuahua has actually returned with the train after going around the network once or twice back to Swansea."
Aroused attention
Mr De Celes said the dog was elderly but healthy, friendly and used to being carried, so there was no logical reason why anyone would deliberately dump it.
"I've been doing this job long enough to realise when something is not going to be as straightforward as all that, and this one certainly aroused my attention," he said.
"I hope if the dog has been lost we'll reunite it with the owner," he added.
Staff at Petlog, the database for microchipped pets, are trying to establish where the dog's microchip came from.
The RSPCA and police are still working on the theory the pet was left on the train accidentally.
Information has been distributed about the dog in Manchester and London in case it has been registered missing there.