Pet dog discovered left on Swansea train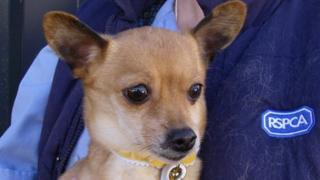 Train staff have handed over an unusual lost property to the care of an animal charity - a mislaid dog.
The small brown Chihuahua was left on a train which terminated at Swansea station on Thursday afternoon.
The RSPCA said the dog does not have a tag but it is micro-chipped, although the pet log has been unable to trace the owner.
Anyone with information is asked to call the RSPCA on 0300 1234 999 leaving details for Insp Nic De Celis 732.
The sandy-coloured Chihuahua was discovered in carry case by a train guard on the Arriva Trains' Manchester Piccadilly to Carmarthen service.
The dog is thought to be elderly but seems to be in good health and is currently in the care of the RSPCA while efforts are made to trace the owner.
Inspector Nic De Celis said: "There could be someone out there who is missing this dog and is frantic with worry and we'd really like to reunite them with their pet.
"But at the moment the reason why this dog was left alone on the train is a complete mystery.
"We are keen to speak to anyone who has any information, whether they noticed the dog while travelling on the train or if they know of someone who is missing a Chihuahua."