Pembrokeshire job advert sparks Welsh language row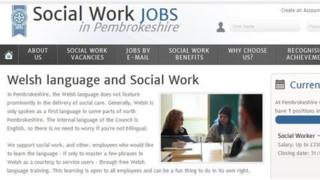 A council has been accused of a "scandalous attitude" towards the Welsh language after its website said applicants for social work jobs need not "worry" if they were not bilingual.
Language pressure groups claim the Pembrokeshire council statement was "an insult" to people living there.
They have asked the Welsh language commissioner to intervene.
The council admitted it was wrong to say Welsh was not prominent in social care and has changed the wording.
The row comes a day after Europe's leading human rights organisation said there was "considerable concern" about the declining use of Welsh in public services.
Only six of Wales' 22 local authorities have more Welsh speakers than Pembrokeshire, according to the 2011 census.
Lessons offered
Welsh language pressure groups Cymdeithas yr Iaith Gymraeg (Welsh Language Society) and Dyfodol i'r Iaith (Future of the Language) together with language initiative Menter Iaith Sir Benfro all said they would write to the council and the Welsh language commissioner to complain about the wording on the council website.
The website originally said: "In Pembrokeshire, the Welsh language does not feature prominently in the delivery of social care.
"Generally, Welsh is only spoken as a first language in some parts of north Pembrokeshire.
"The internal language of the council is English, so there is no need to worry if you're not bilingual.
"We support social work, and other, employees who would like to learn the language - if only to master a few phrases in Welsh as a courtesy to service users - through free Welsh language training.
"This learning is open to all employees and can be a fun thing to do in its own right."
'More respect'
Tudur Lewis, Menter Iaith Sir Benfro's development officer, said: "The wording of this statement shows a scandalous attitude by the council towards the Welsh language by Pembrokeshire Council.
"The council needs to have more respect for the Welsh language and realise many people in the county conduct most of their lives by using Welsh only."
According to the 2011 census there are 22,786 Welsh speakers in Pembrokeshire, just under a fifth of the population at 19.2%.
Heini Gruffudd of Dyfodol yr Iaith said the statement "gives a misleading impression of the linguistic situation in Pembrokeshire and therefore belittles the use of the language and of Welsh speakers' need to receive social care in Welsh".
He added: "We would like to see the Welsh Langauge Commissioner drawing Pembrokeshire Council's attention to good practice in this field and ask them to correct their information and to offer a better service to Welsh speakers."
A spokesman for Cymdeithas yr Iaith Gymraeg added that the statement was "factually wrong and an insult to the people of Pembrokeshire and the Welsh language".
A Pembrokeshire council spokesman said: "We acknowledge that stating that Welsh is not prominent in social care is incorrect, and we will therefore be removing this statement.
"This is a difficult field to recruit into, and to preclude all those who were unable to speak Welsh would seriously impede recruitment.
"However, we will be altering the text to make it clear, in the first instance, that any recruits will be given the opportunity to learn Welsh if they are not Welsh speakers."
The council has since changed the wording of the statement.